Residential
Local Locksmith Services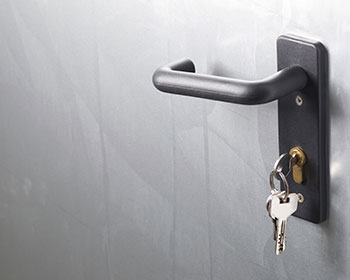 Homeowners and construction professionals in Baltimore City and Baltimore County have turned to Baltimore Lock & Hardware for residential locksmith services for more than 35 years. Our highly-trained, reliable locksmiths are fully bonded, and can quickly and efficiently perform a range of residential locksmith services, including lock rekeying, door adjustments, hinge repair, deadlock installation, key duplication, and lock repair.
We're a full-service lock shop with an extensive collection of locks, access systems, hinges, hardware, and accessories in our showroom, conveniently located just minutes from downtown Baltimore.
Duplicate Keys
When you need duplicate keys made, our locksmiths have all the necessary tools and key blanks on hand to fit nearly any lock. We offer key duplication services for residential locks, high-security locks, and more.
Repair Locks
The expert locksmiths of Baltimore Lock & Hardware can evaluate a broken lock to determine if it can be repaired in place rather than replaced, which may save you money. Our technicians repair some of the most advanced locks and access systems available for our commercial clients, so you can trust that we have the high-tech tools and advanced knowledge to repair any type of residential lock.
Rekey Locks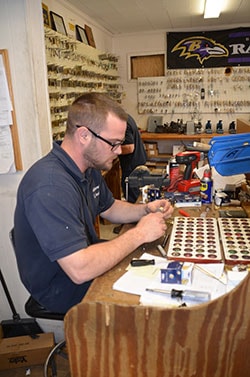 Homeowners need to rekey their locks for a number of reasons. Whether you've recently moved into a new home, had keys lost or stolen, or want to match all the locks in your home to a single key for convenience, rekeying a lock in your home is an important step in securing your home. Our locksmiths have the equipment and experience to quickly and affordable rekey a full range of residential locks, including high-security locks, deadlocks, and more.
Door Adjustments & Hinge Repair
If your door is sticking, sagging, or simply doesn't close properly, we can often make a fast door adjustment or hinge repair to have it working optimally again. Our locksmiths are well versed in a range of residential door types, and we stock a complete selection of hinges and hardware to match your existing hardware type.
Deadlocks
A deadlock is a simple, but effective way to improve the security of your home. Deadlocks describe a lock that requires a key to open from either side, although the term is often used to describe single-sided deadlocks, which feature a thumb turn rather than a key lock on the inside. Deadlocks are essential for exterior doors that have glass window panes or are located near windows, to prevent a burglar from reaching through a broken window to unlock the door. We can install, repair, and replace deadlocks in your home, or even rekey a new deadlock to match your existing locks.