Products
Baltimore Lock & Hardware provides an extensive selection of commercial lock and door supplies to for businesses and contractors throughout the Maryland region, including Washington D.C., northern Virginia, southern Pennsylvania, Baltimore City, and Baltimore County. Conveniently located just minutes from downtown Baltimore, our showroom is fully stocked with a wide range of locks, access systems, hinges, hardware, and accessories.


Door & Frames
We carry commercial doors and frames in every material and style. From hollow metal fire doors to wood doors in a variety of finishes. When needed, doorframes can be constructed from stainless steel, fiberglass, aluminum, or galvanized steel to provide corrosion resistance in different environments.
Heavy-duty commercial doors for corporate, educational, government, and any industry that demands durability and security.
Chosen for their quality and selection, USA Wood Door has over 10,000 styles of doors in their collection, most of which can be delivered in as little as 3-5 days.
Locks & Access Systems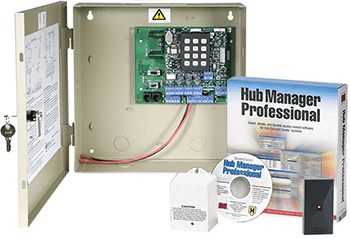 Whether your business relies on high-security locks, a sturdy deadbolt, or an advanced keyless access system, we have a range of manufacturers to choose from. Our technicians can recommend the most economical and efficient commercial lock or access system for your application.
High-quality commercial hardware for commercial facilities, including mortise locks, cylindrical locks, high-security key systems, and access control hardware.
Electro-mechanical locking systems, including electric strikes. Hanchett Entry Systems are renowned for their innovative design and strength.
Keri provides affordable, reliable access systems that are ideal for most access control projects.
Medeco high-security locks are made in the U.S.A. with pride and used to secure schools, banks, universities, and U.S. government and military institutions.
Securitron manufactures commercial-grade exit devices, electromagnetic locks, digital entry systems, and more.
Simplex mechanical pushbutton locks are ideal for keyless, cardless entry with easy combination changes, and no computer programming.
High-security locks, including electronic locks, ligature-resistant locks, exit devices, and door closers.
Trilogy specializes in keyless locks, including card locks and digital keypads for commercial use.
Yale's complete line of door hardware includes exit devices, door closers, mortise locks, and cylindrical locks.
Hinges
High-quality commercial hinges, including full-mortise hinges, half-mortise hinges, full-surface hinges, and half-surface hinges.
Emtek is a quality manufacturer of commercial hinges and door hardware, with a wide variety of styles and finishes.
High-quality architectural hinges for commercial use.
Safes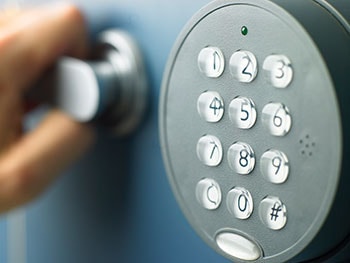 Secure your valuables with a high-quality safe from AMSEC or Gardall.
American Security Products (AMSEC) line of safes includes floor safes, wall safes, gun safes, depository safes, and electronic safes.
Safes, depositories, and lockboxes, from Gardall include B-rated burglary safes and fire-resistant safes.
Exit Devices
Panic bars can be installed on new construction or added to existing doors. Our technicians are knowledgeable in all fire and building codes, and can recommend the correct panic bar installation for your facility.
Door Closers
Manual door closers use torsion springs to regulate the speed of the door, while automatic door closers are activated by motion or push button control. Door closers can be surface mounted or concealed within the door, doorframe, or floor.
Yale offers standard duty and heavy duty door closers in aluminum and dark bronze finishes.
Corbin Russwin door closers provide reliable latching for access control and fire code compliance and meet ADA requirements.
LCN offers the 4000 series, surface-mounted 1000 series, and the Cast Aluminum Series of door closers.
Tell Manufacturing's quality door closers are available for a range of commercial applications, as well as residential use.
ADA-Compliant Handicap Automatic Door Operators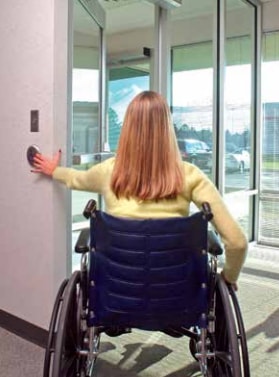 Keep your facility in compliance with the Americans with Disabilities Act (ADA) by installing automatic door operators. Our technicians are fully-trained in the installation and service of automatic door operators, and our sales team will advise you on the correct system for your facility.
SDC manufactures a range of access systems, mag locks, and electric strikes.
LCN automatic operators are available in pneumatic, electrohydraulic, and electromechanical operating styles.
Norton door operators are used in schools, hospitals, and businesses around the globe.
Weather Stripping, Door Pulls, & Miscellaneous Hardware
In addition to our full selection of locks, doors, and hardware, we stock a broad selection of weather stripping and other materials used in various commercial door installations.
Pemko manufacturers weather stripping, gasketing, thresholds, continuous hinges, and other commercial door accessories to provide energy efficiency, sound blocking, fire safety, and more in commercial settings.
Quality builders' hardware, including architectural door pulls, for commercial, residential, and institutional use.